We're celebrating the opening of Amy Sumrall's new store with a blog train. A bunch of us on Amy's creative team got together and created some freebies for all of you using one of Amy's new kits called Blooming Doodles!
And where is Amy now? The-Lilypad! So after you pick up all the fun stuff - go and check out her new store at
http://www.the-lilypad.com/
She has a ton of new fun stuff out today!
Here's my
frame freebie to download from box.net
.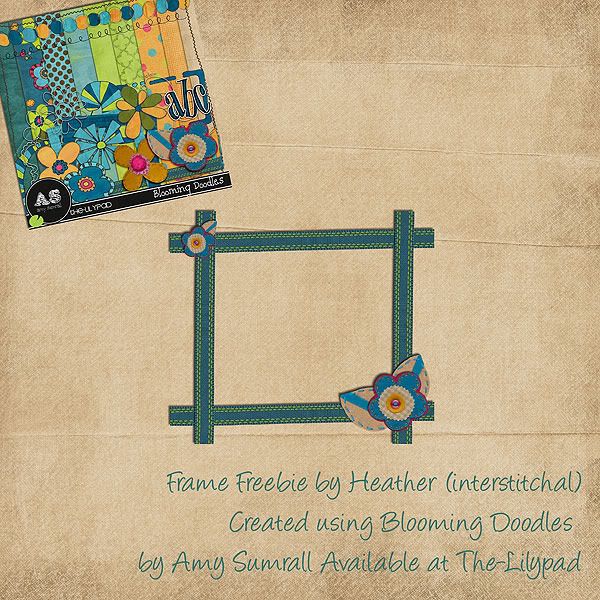 And here's a list of the other fun stops! You can always check Amy's blog to start at the beginning if you missed anything!
Keep in mind, we are all in different time zones so if one of us has not posted yet, be sure to check back later!
Amy S:
http://lilbitsandberries.blogspot.com/
Cristina:
http://cristinascrap.blogspot.com
Julie:
http://mycrazylifeasamomandawife.blogspot.com/
Tara:
http://thewildmountainthyme.blogspot.com/
Sally:
www.rainbowskydesigns.wordpress.com
Jennifer:
http://neverendingfairytale.com/scraps
Brandy:
http://luckisforlosers.blogspot.com/
Holly:
http://scrappinlilmoments.blogspot.com
Nicole:
http://crop-a-holic.blogspot.com
Heather:
http://createdbyheather.blogspot.com
<- YOU ARE HERE!
Tina:
http://www.theflohrs.blogspot.com
Laura:
http://www.simply-scraps.net
Tracy:
http://tracykosofsky.blogspot.com
Sylvia:
http://sylviascraps.blogspot.com
Crystal:
http://crystallongbrake.blogspot.com
Bryn:
http://www.scraptacularscraptacular.blogspot.com